Mamas & Papas Ocarro 8 Pc Complete Travel Bundle With Cloud T & Base - Juniper
£1,459.00
Regular price
£1,715.90
IN STOCK: AVAILABLE FOR IMMEDIATE DESPATCH. PLEASE NOTE CAR SEAT MAY NEED TO ALLOW MAXIMUM OF 2 WEEKS.
This convenient bundle includes an Ocarro Pushchair with bumper bar, head hugger, shopping basket and raincover, Ocarro Carrycot, Cybex Cloud T i-Size Car Seat, Base T, Footmuff, Changing Bag, Cup Holder and Adaptors.
Suitable from birth to 22kg, the Mamas & Papas Ocarro is the perfect all-terrain pushchair. Whether exploring the countryside or hitting the shops, the Ocarro will navigate effortlessly and allow your little one to travel in complete comfort and safety.
All-Terrain Design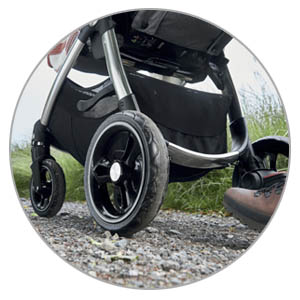 The dual suspension, sturdy puncture-proof tyres and lockable wheels mean the Ocarro will handle any surface with ease, whatever the adventure.
---
Ride in Comfort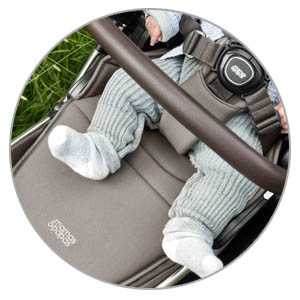 The seat unit is spacious and padded and features cushioned chest pads and a head-hugging pillow to provide the most comfortable rides, even on tough terrain. It offers multiple recline positions, including lie-flat for healthy supportive napping on the move and upright to allow your little one to view the world around them.
---
Convenient & Compact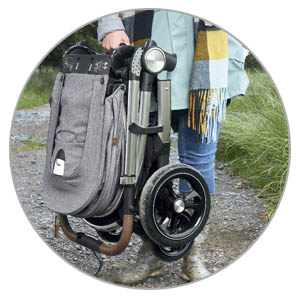 The Ocarro folds quickly and easily into a compact package with only one hand, making it ideal for popping in the boot or on public transport and storing away when not in use.
---
Mamas & Papas Ocarro Features:
Suitable from birth to around 22kg (4 years approx.)
Lie-back seat to ensure a natural, healthy sleep position
Three-position recline
Spacious, padded seat unit can be used either world or parent facing
Front and rear suspension
XL all-terrain wheels with puncture-proof tyres for improved manoeuvrability
Lockable front wheels
Reflective safety rims for greater visibility
Adjustable handlebar for comfort and control
Fantastic weight distribution for easy handling
Padded chest pads and Head Hugger for comfort and support
Built-in concealed sleep-shade
Large extendable hood for extra shelter and privacy
UPF 50+ fabrics for optimal protection against UV rays
Peek-a-boo window allows you to check on your little one
Adjustable air-vent
Leather look bumper bar
Stylish chrome detailing
Super-compact one-hand forward and rear-facing fold for easy storage
Easy-access shopping basket
Mesh pockets for storing adaptors and raincover
Includes raincover
Mamas & Papas Ocarro Specifications:
Age Suitability: Birth - 22kg
Unfolded Dimensions: L 101 x W 59 x H 101cm (approx.)
Folded Dimensions: L 78 x W 59 x H 40cm (approx.)
Seat Unit Dimensions: L 24 x W 28 x H 53cm
Shopping Basket Dimensions: L 61 x W 41 x D 25cm
Weight: 13.7kg (approx.)
Tested and compliant with EN 1888-1&2:2018
Mamas & Papas Ocarro Carrycot Specifications:
Dimensions: H 59 x W 39 x L 76cm (approx.)
Weight: 5.2kg (approx.)
Tested and compliant with EN 1466:2014
Cybex Cloud T i-Size and Base T
The Cybex Cloud T i-Size is suitable from 45 to 87cm (birth to approx. 2 years) and is the full package, providing comfort and flexibility for your child, whether travelling inside or outside the car. This remarkable infant carrier features an in-car recline when used with the Base T and can be reclined to an ergonomic full lie-flat position on your pushchair.
Ergonomic Comfort Anywhere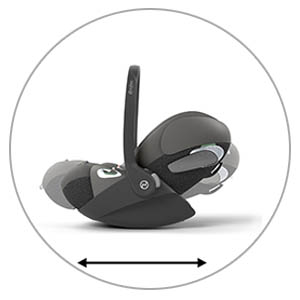 The groundbreaking Stretch & Lie-Flat Technology includes a recline hinge located in the hip area, that enables a simultaneous flattened back and extended leg rest to create the optimal reclining posture for your baby. When utilised with your pushchair, the Cloud T i-Size can be effortlessly adjusted to a fully reclined, lie-flat position, ensuring continuous ergonomic comfort while on the move. This prevents baby's head from falling forward to maintain clear breathing and healthy lung development.
---
State-of-the-Art In-Car Recline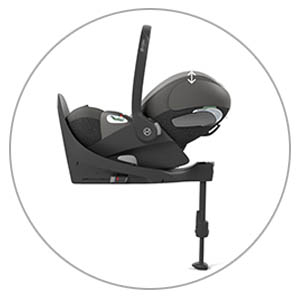 This edition of the Cloud series can be securely reclined while being used inside the car when used with the Base T. This ensures enhanced ergonomic comfort for the child during car rides, all while maintaining the highest safety standards on the road.
---
Effortless Boarding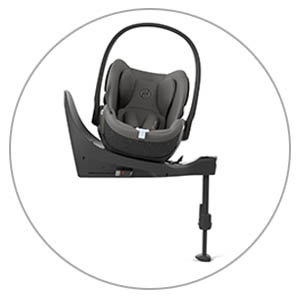 When used in conjunction with the Base T, the 180° rotating mechanism makes getting your child in and out of the car seat simple and easy, reducing strain on your back and allowing you to turn the car seat to face the parent when having a break in the journey.
---
Side-Impact Protection
The Integrated Linear Side-impact Protection (L.S.P. System) absorbs the force of a side-impact collision in combination with the energy absorbing shell, reducing the force by approximately 25%.
---
Breathable Travel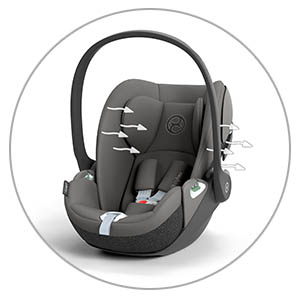 The breathable fabrics and mesh window within the retractable XXL UPF50+ sun canopy offer full air ventilation to ensure your baby is cool and comfortable on every journey all year round.
---
Features:
Stretch & Lie-flat Technology - ergonomic lie-flat position when used with a stroller
Ergonomic in-car recline
180° rotating mechanism with the use of the Base T
Integrated L.S.P. System
12 position height-adjustable headrest
Breathable fabrics
Integrated harness guide
Retractable XXL UPF50+ sun canopy with mesh window for increased airflow
Includes removable newborn inlay
Compatible with the Base T and Base Z2 for secure installation into your car and safe journeys for your baby
Specification:
Group 0+: 0-13kg (From birth up to approx. 2 years)
Suitable from 45 to 87cm
Complies with i-Size regulation UN R129/03
Dimensions: L 64.5 x W 44 x H 38-60 cm
Weight: 4.5 kg
Fabric covers machine washable at 30°
Base T
The Cybex Base T works perfectly in conjunction with the Cloud T i-Size and Sirona T i-Size car seats to offer a simple and secure installation into your car, keeping your little one safe on every journey. With the Base T, you can simply spin the car seat towards the car door to easily and comfortably position your child in their seat.
Ensuring getting your child in and out of their car seat is stress-free, the innovative rotation mechanism with easily accessible rotation handle provides 180° rotation of the Cloud T i-Size and 360° rotation of the Sirona T i-Size for effortless transition between rear-facing and forward-facing positions.
The enhanced intuitive ISOFIX-Release buttons make the T base quick and easy to use, whilst ISOFIX release buttons visual indicators will provide peace of mind that the base is fitted correctly every time.
This base is secured to your car with its ISOFIX connectors and load leg which offer both safety and stability, and can also be installed by using the cars seat belt to attach the seat to the base in vehicles without ISOFIX connectors.
Features:
Part of the Cybex T Line Modular System - compatible with the Cloud T i-Size and Sirona T i-Size
Smooth and comfortable boarding
Quick and simple installation using ISOFIX and load leg
Secure
One-hand rotation mechanism with easily accessible handle
Enhanced intuitive ISOFIX-Release buttons
Visual indicators provide confirmation of correct installation
Provides 180° rotation of the Cloud T i-Size to get your baby in and out of the vehicle easily
Provides 360° rotation of the Sirona T i-Size to easily enable forward-facing or rear-facing positions
Compatible with Cloud T i-Size, Cloud Z2 i-Size and Sirona T i-Size
Specification:
Suitable from birth to 24 months (approx.) (when used in conjunction with the Cloud T i-Size)
Suitable from birth to 4 years (approx.) (when used in conjunction with the Sirona T i-Size)
Complies with i-Size regulation UN R129/03
Dimensions: L 66.5 x W 40.5 x H 36.5 cm
Weight: 7.7 kg