Cybex Priam Travel System inc Lux Carrycot & Cloud T - Peach Pink
IN STOCK: PLEASE ALLOW 7-14 DAYS FOR DELIVERY
The Cybex Priam is the ultimate pushchair for your child; designed with remarkable style that ensures you will stand out in the crowd and features that are both comfortable for baby and completely practical for parents.
This exciting, upgraded edition of the Priam builds on the already high standards of design with the latest one-pull harness for even safer child fastening. The Priam is an exceptional 4-in-1 travel solution from Cybex that uses only one frame and four attachments to make life on the go with your child easier.
This package includes the compact folding Priam Chassis, Luxury Seat Unit with Seat Fabric Pack, Lux Carrycot, Extra-Large Shopping Basket, Car Seat Adaptors and Raincover, Cloud T i-Size Car Seat & (optional) Cloud T Isofix Base.
One-Pull Harness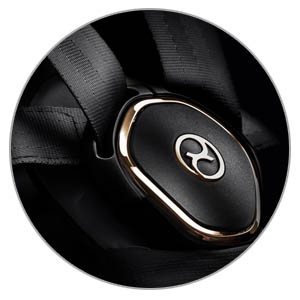 The innovative one-pull harness allows you to fasten your child into the Priam effortlessly in seconds with only one hand. This harness guarantees even lively babies are safe and secure in the seat unit.
---
Lux Carrycot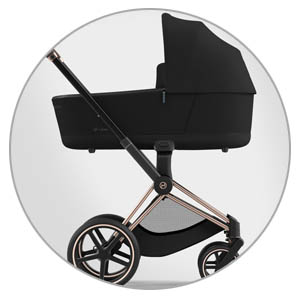 The spacious Lux Carrycot will provide an enormously snug space for your little one when out and about. It includes a breathable mattress and 100% cotton lining for optimal comfort, two different mesh windows for improved air circulation and views and a UPF50+ sun canopy with extendable visor. The integrated carry handle allows you to easily carry the carrycot and there is now a zipped pocket to keep those essentials to hand.
---
Lie-flat Reversible Seat Unit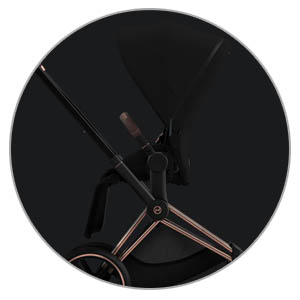 The Cybex Priam is suitable from birth with a multi-recline position seat unit which can be adjusted with just one hand and used both parent and world facing for children up to 22kg.
---
Full Suspension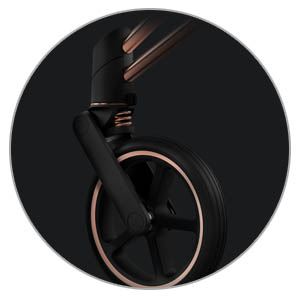 The Priam has all-wheel suspension to provide a smooth and comfortable ride for both you and your child whatever the terrain.
---
Convenience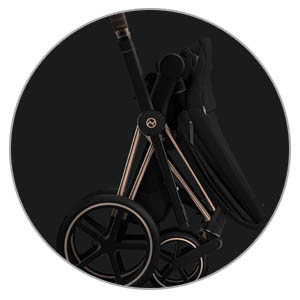 You can simply use one hand to fold your Priam into a compact bundle for when not in use or into a free-standing unit, which is ideal for on public transport or in restaurants or cafes. There is also a spacious shopping basket with a 5kg capacity.
---
Luxurious and Stylish
Designed with sophistication, the Cybex Priam utilises only premium materials and incorporates the latest style with clean lines, luxurious leatherette features and incredible details.
---
Features:
Suitable from birth to 22kg (approx. 4 years)
Includes choice of chassis, Seat Pack and Lux Carrycot
4-in-1 travel system - one frame with four attachments for Lux Carrycot, Lite Carrycot, Seat Unit, and Infant Car Seat
Lux Carrycot includes a breathable memory foam mattress, 100% cotton lining, two different mesh windows for improved air circulation and views, UPF50+ sun canopy with extendable visor, integrated carry handle and zipped storage pocket
Versatile seat unit that can be used forward or parent facing
Highly positioned seat unit perfect for sitting at the table
One-pull harness fastens child securely in seconds with only one hand
Memory buttons mean seat can easily be clicked on and off
Height-adjustable leather-look handlebar
Full-suspension for a smoother ride
Two-wheel mode for improved manoeuvrability on a variety of surfaces
One-hand multi-position recline including lie-flat
Adjustable three-position leg rest
One-hand free-standing fold for compact, easy storage and transportation
Includes comfortable seat inlay
XXL extendable sun canopy with UVP50+ sun protection and wind shelter
Extra large shopping basket with 5kg capacity
Raincover
Includes adaptors for infant car seat, raincover and shopping basket
Priam Pushchair:
Unfolded dimensions: L 920-830 mm / W 600 mm / H 985-1080 mm
Folded dimensions most compact: L 835 mm / W 515 mm / H 315 mm
Weight: 13.1kg
Lux Carrycot:
Folded Dimensions: L 875 / W 480 / H 170mm
Inner Dimensions: L 780 / W 340 / H 160-200mm
Outer Dimensions: L 875 / W 480 / H 255mm
Weight: 4.9kg
Cybex Cloud T i-Size
The Cybex Cloud T i-Size is suitable from 45 to 87cm (birth to approx. 2 years) and is the full package, providing comfort and flexibility for your child, whether travelling inside or outside the car. This remarkable infant carrier features an in-car recline when used with the Base T (sold separately) and can be reclined to an ergonomic full lie-flat position on your pushchair.
Ergonomic Comfort Anywhere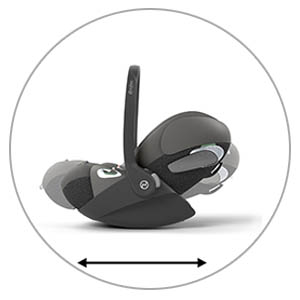 The groundbreaking Stretch & Lie-Flat Technology includes a recline hinge located in the hip area, that enables a simultaneous flattened back and extended leg rest to create the optimal reclining posture for your baby. When utilised with your pushchair, the Cloud T i-Size can be effortlessly adjusted to a fully reclined, lie-flat position, ensuring continuous ergonomic comfort while on the move. This prevents baby's head from falling forward to maintain clear breathing and healthy lung development.
---
State-of-the-Art In-Car Recline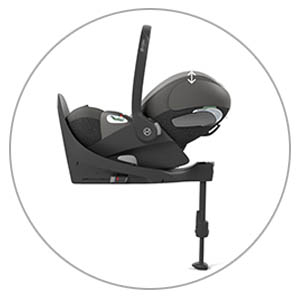 This edition of the Cloud series can be securely reclined while being used inside the car when used with the Base T (sold separately). This ensures enhanced ergonomic comfort for the child during car rides, all while maintaining the highest safety standards on the road.
---
Effortless Boarding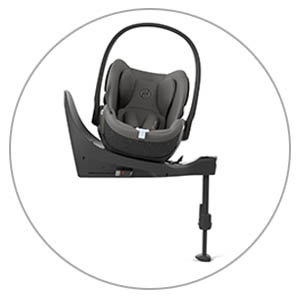 When used in conjunction with the Base T (sold separately), the 180° rotating mechanism makes getting your child in and out of the car seat simple and easy, reducing strain on your back and allowing you to turn the car seat to face the parent when having a break in the journey.
---
Side-Impact Protection
The Integrated Linear Side-impact Protection (L.S.P. System) absorbs the force of a side-impact collision in combination with the energy absorbing shell, reducing the force by approximately 25%.
---
Breathable Travel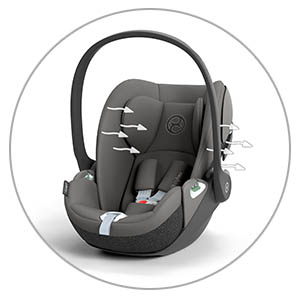 The breathable fabrics and mesh window within the retractable XXL UPF50+ sun canopy offer full air ventilation to ensure your baby is cool and comfortable on every journey all year round.
---
Features:
Stretch & Lie-flat Technology - ergonomic lie-flat position when used with a stroller
Ergonomic in-car recline
180° rotating mechanism with the use of the Base T (sold separately)
Integrated L.S.P. System
12 position height-adjustable headrest
Breathable fabrics
Integrated harness guide
Retractable XXL UPF50+ sun canopy with mesh window for increased airflow
Includes removable newborn inlay
Compatible with the Base T and Base Z2 for secure installation into your car and safe journeys for your baby (sold separately)