iCandy Core Stroller & Carrycot Combo - Light Moss
IN STOCK: PLEASE ALLOW 7-14 DAYS FOR DELIVERY.
iCandy Core - 2 in 1 combination designed for every journey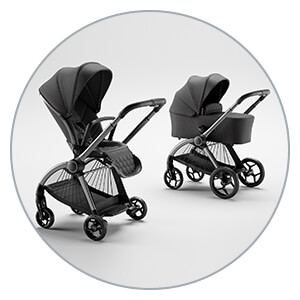 Suitable from birth up to 25kg. the iCandy Core is a compact and lightweight combination that converts from super snug baby pram suitable for overnight sleeping to multifunctional stroller with large and comfy reversible seat unit. Exquisitely crafted from high quality materials, this innovative pushchair boast truly sophisticated style.
---
Multi-mode wheelbase designed for every journey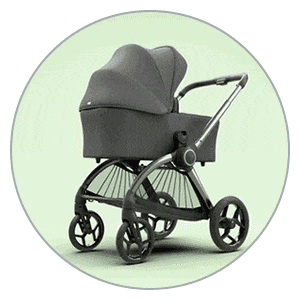 The iCandy Core comes with two interchangeable and removable wheelsets, which allow you to setup the stroller to ride smoothly on any terrain. The 'Rural' wheelset includes larger wheels, that offer great performance on rough terrains, whilst the 'Urban' wheelset includes smaller wheels that provide better maneuverability and easier ride on smoother city grounds.
---
LED Visibility Hub Lights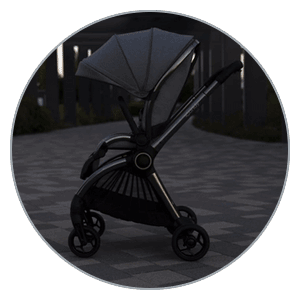 The iCandy Core has been equipped with two LED lights placed on both sides of the chassis. This revolutionary feature significantly increased the visibility of the stroller in the dark and lower light conditions. This rechargeable lights comes with USB charging cable and special key for detaching.
---
Spacious seat with lie flat recline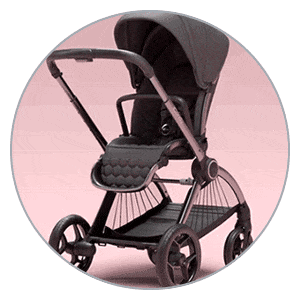 The iCandy Core features large seat with 4 recline settings including a lie-flat position that makes it suitable even for newborns. There is also a uniquely designed pop-up calf rest that provides ultra comfort for smaller and bigger children.
---
Quality in every detail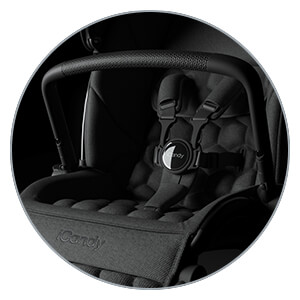 The iCandy Core is made to the last using soft quality knitted jersey fabrics and premium leatherette finishes on the parent's adjustable handlebar and child's detachable bumper bar. The Core's seat unit comes with easy adjustable headrest, 5 point safety harness and a expandable SPF 50+ hood with viewing window and mesh ventilation panels.
---
Integrated Ride-On Board and shopping basket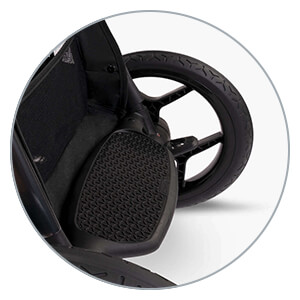 As the other iCandy pushchairs and strollers, the iCandy Core has been equipped with integrated ride on board, that allows your older child to travel along with little her/his little sister or brother. The Core's shopping basket features special built-in drainage vent, that prevents of accumulation of water when strolling in the rain. The set also includes two raincovers - one for seat unit and other for carrycot.
---
Flip=flop friendly foot brake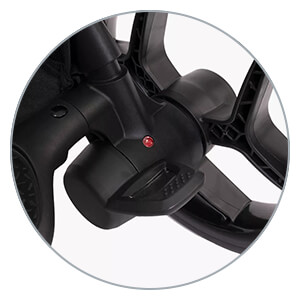 The iCandy Core features super convenient parking brake with on/off indicator, which make it easy to use even wearing summer outings.
---
Compact one hand folding mechanism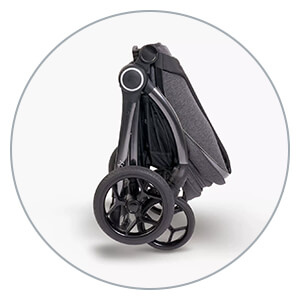 The iCandy Core folds easily with just one hand to a compact free standing position, no matter what wheelbase is used.
---
Travel system ready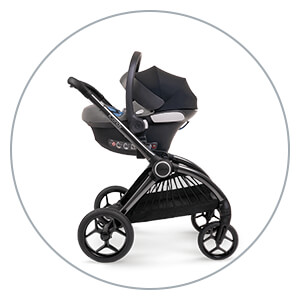 The iCandy Core set comes with car seat adaptors, which make this pushchair ready to use as a travel system with most popular car seat brands like Cybex, Maxi Cosi, Joie, Nuna or Kiddy. See car seat compatibility list down below.
All features:
Suitable from birth up to 25kg (15kg on elevator adaptors)
Innovative and stylish design
Chassis with LED Visibility Hub Lights
Multi-mode wheelbase with two sets of wheels for terrain and the city
Fleece lined Carrycot is suitable for overnight sleeping
Large parent and world facing seat unit
Expandable SPF 50+ canopy with viewing window and mesh air vents
Premium quality knitted jersey fabrics
One hand recline - 4 positions including lie flat setting
Leatherette handlebar and matching bumper bar
Easy slide pop-up harness with adjustable head support
Pop-up calf rest
One hand folding with automatic lock
Compact and free standing position when folded
Adjustable handlebar with carry bag hooks
Flip-flop friendly parking brake with on/off indicator
Large 48 litre shopping basket with built in drainage vent
Integrated ride on board
Travel system ready with included adaptors
What is included?
Core Chassis with integrated Ride on Board
Core Carrycot
Core Seat Unit
Core LED Visibility Hub Light x 2
LED Visibility Hub Light charger and key
Rural wheel set
Urban wheel set
Core Wheel bag
Core Elevator Adaptors
Core Car Seat Adaptors
Raincover x 2
Specifications:
Rural wheelbase:

Folded dimensions (without seat): L75.5 x W61.5 x D42.5 cm
Folded dimensions (without seat): L69 x W61.5 x D29 cm

Urban wheelbase:

Folded dimensions (with seat): L75.5 x W61.5 x D39 cm
Folded dimensions (without seat): L69 x W61.5 x D24 cm

Folded dimensions (no wheels): L69 x W54 x D21 cm
Seat unit dimensions: L96 x W36 x D15 cm
Carrycot dimensions: L78 x W33 x D23 cm
Handlebar height: 91.5-103 cm
Basket capacity: 48 l
Complete weight with seat: 12.6 kg
Lightest weight (chassis with the wheels removed): 5 kg
Seat weight limit off elevators: 25 kg
Seat weight limit off elevators: 15 kg
Compatible car seats:
Maxi Cosi Coral 380
Maxi Cosi Pebble 360 Pro
Maxi Cosi Pebble 360
Maxi Cosi Pebble
Cybex Cloud Z
Cybex Cloud T
Cybex Aton M
Joie i-Gemm
Joie i-Level
Joie i-Snug
Nuna Arra
Nuna Pipa
Nuna Pipa Lite LX