iCandy Peach 7 Travel Bundle With Pebble 360 Pro & Base - Blonde/Biscotti
IN  STOCK, AVAILABLE FOR IMMEDIATE DISPATCH.
The iconic iCandy Peach is now in its seventh generation and is the embodiment of style, functionality and versatility. The Peach is perfectly suited for growing families, it is a sophisticated travel system that takes baby from birth to 25kg and can convert from a single to double or twin within a single footprint.

The iCandy Peach offers an ultra-smooth ride and is effortlessly manoeuvrable. With each generation, the Peach further improves on comfort and functionality for both baby and parent with cutting edge design, innovation and style.
What is included?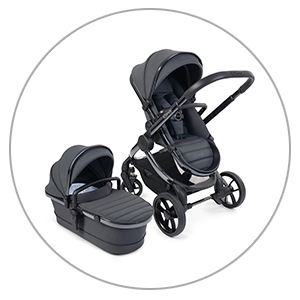 The iCandy Peach includes:
Peach Chassis with integrated Ride on Board
Peach Carrycot Fabric
Peach Seat Unit Fabric
Peach Carrycot / Seat Unit frame
Peach Canopy
Peach Mattress Liner
Peach Basket
Peach Raincover
Peach Elevator
Peach Car Seat Adaptors
Peach Bumper Bar
Peach "Pip-Zip" carry bag
Peach Rucksack Bag
Peach Footmuff & Liner
The Screen
Peach Clamp
Cup Holder
Parasol
Maxi Cosi Pebble 360 Pro Car Seat
Maxi Cosi Familyfix 360 Pro Base
---
New integrated Ride on Board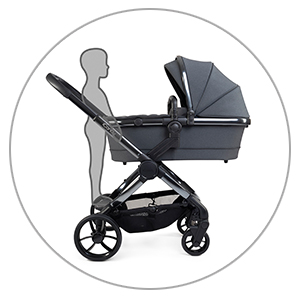 The iCandy Peach chassis now includes an integrated ride on board providing unparalleled functionality for you and your little one.
---
Self Standing Fold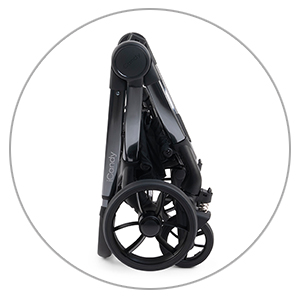 The Peach features an innovative compact, free standing and one-handed fold system that is simple and easy to use.
---
Perfectly Suited to growing families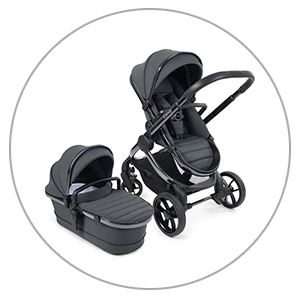 The Peach has been specifically designed to be future proof, it can effortlessly convert from Single to Double to Twin within a single footprint.
---
Maxi Cosi Pebble 360 Pro and Base
Suitable from 40 to 87cm (approx. birth - 15 months), the i-Size Pebble 360 Pro car seat from Maxi Cosi provides maximum comfort for the baby and the parent too. When used in combination with the included Familyfix 360 Pro base, the Pebble 360 Pro is capable of full 360° rotation and slides toward parent with just one hand. This revolutionary sliding car seat features 3 recline positions, adjustable harness and headrest, baby-hugg inlay and an ergonomic carry handle.
The extraordinary combination of ClimaFlow panels, breathable foam and fabrics provide fantastic air circulation to ensure your little one is cool and comfortable at all times. The Maxi Cosi Pebble 360 Pro's G-CELL Side Impact Technology provides your child with the utmost safety and acts as an ultra secure built-in guard for optimal protection.
The included Familyfix 360 Pro offers intelligent FlexiSpin mechanism and patented Slide Tech™ system that allows to rotate the seat and bring it approx. 20 cm toward parent with just one hand. This allows you for easy and hassle free placing you child in and out of the seat without backaches, head bangs, or struggles.
Features
Suitable from Birth (With Carrycot) up to 25kg (15kg on elevators)
Includes Elevators increase seat height – perfect when dining out
Parent and World Facing
Integrated Ride on Board
Leatherette handlebar and matching Bumper Bar
Easy slide Pop-Up Harness with adjustable head support
Auto Chassis Fold Lock
Compact Free Standing One-hand Fold
Pip-Zip carry bag on the back of Seat Unit
Large 44 Litre Shopping Basket
Can Convert from a Single to Double to Twin
Car Seat Compatible with included adaptors
Fleece lined Carrycot is Suitable for Overnight Sleeping
All Round Suspension
Multi-Functional Extendable and Adjustable SPF 50+ Hood with viewing window
Luxury Knitted Jersey Fabrics
One Hand 4 Position Recline
Adjustable Calf Rest
Adjustable Handlebar Heights
Carry Strap make carrying the pushchair effortless
P.U Puncture Proof Tyres
Specifications
Suitable from Birth up to 25kg
Folded Dimensions (Single): L70 x W54 x H28cm
Unfolded Dimensions (Single): L55 x W52 x H99cm
Max weight (Shopping Basket): 10kg
Safety tested & certified to BS EN 1888-2:2018