UPPAbaby Vista V2 Travel System With Cloud T & Base - Jordan
£1,335.00
Regular price
£1,594.00
IN STOCK: PLEASE ALLOW 5-7 DAYS FOR DELIVERY - CAR SEATS MAY BE LONGER. 
The Uppababy Vista V2 is designed to make life easier for growing families. This set includes Chassis, Seat Unit with Canopy, Bumper Bar, Carrycot, Carrycot Storage Bag, Seat Unit Raincovers, Insect Nets plus Cloud T Car Seat with Base & Adaptors!
Uppababy VISTA V2 - the one for all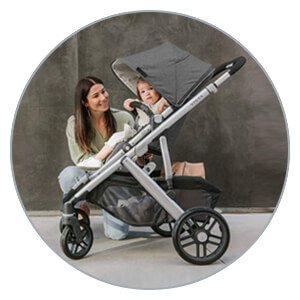 The stylish and practical Uppababy Vista V2 improves on the already iconic Vista with its full-size reversible seat unit with a higher back and deeper footrest, 5-point, no-rethread harness, extended zip-out UPF-50 Sun canopy and enhanced all-wheel suspension with softer tyres.
---
Various configurations with 1, 2, or even 3 children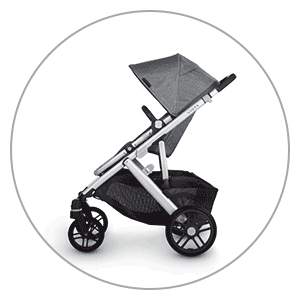 The Vista V2 enables an expandable configuration for up to three children and is fully travel system compatible - making the V2 the ideal solution to growing families. The Vista has been specifically designed to provide style, comfort and practicality to both parent and child.
---
Multi-position recline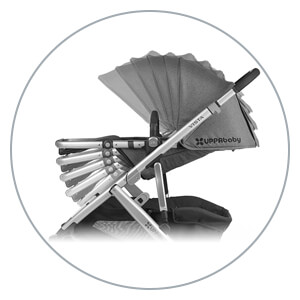 The Vista pushchair sports a lightweight and durable chassis with handlebar adjustment and one-handed, multi-position recline.
---
Included carrycot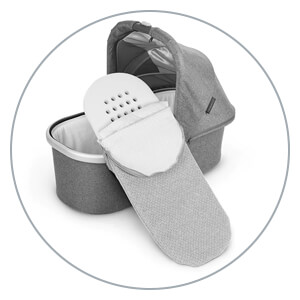 The included Carrycot features a perforated mattress pad, vented base and canopy to ensure air circulation, breathability and maintain temperature control. The carrycot is also equipped with an extended pop out UPF 50+ sunshade, one-handed release and includes carrycot rain over and insect net. The carrycot can be easily detached from the chassis, allowing you to carry your sleeping baby anywhere. It is also suitable for overnight sleeping.
---
Extra-large shopping basket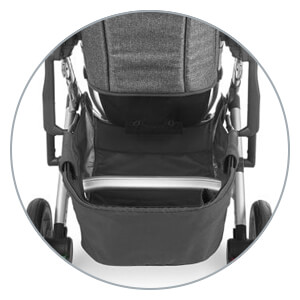 The Uppababy Vista V2 features extra-large and easy accessible underseat storage, which is probably the most capacious shopping basket among all strollers.
---
Stands when folded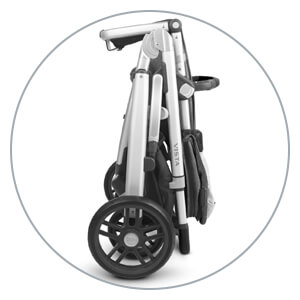 The Uppababy VISTA V2 featuring one step self-standing fold (with or with seat unit attached).
Pushchair Features:
Seat unit suitable from 6 months to 22kg
Full-size reversible seat with higher back and deeper footrest
Five-point, no rethread harness
Enhanced all-wheel suspension and softer tyres
Extra large, easy access shopping basket with dedicated rancover storage
Zip out Extended canopy with UPF 50+ protection
Swivel/lockable front wheels with visual indicator
Lightweight and durable chassis
Expandable configuration for up to three children
Travel System Compatible
One-handed, multi position recline
Adjustable handlebar
Articulated bumper bar for easy loading
One Step self standing fold (with or without seat attached.)
Full Grain Leather Accents
Removable and Washable Fabrics
Raincover and Insect net included
Carrycot Features:
Carrycot suitable from birth to 9kg (approx.6 months)
Perforated mattress pad, vented base and canopy allow ventilation and breathability
Extended pop out UPF 50+ Sunshade
Safe overnight sleeping solution
One hand release from chassis
Includes Raincover and Insect net
Vista V2 Specification:
Unfolded Dimensions (front wheels to handlebar)(L x W x H): 91.4 x 65.3 x 100.3cm
Unfolded Dimensions (front wheels to back wheel) (L x W x H): 91.4 x 65.3 x 100.3cm
Folded Dimensions (L x W x H): 44 x 65.3 x 84.5cm
Frame + Seat Weight: 12.4kg
Frame Weight: 9.1kg
Seat Weight: 3.3kg
Carrycot: 4kg